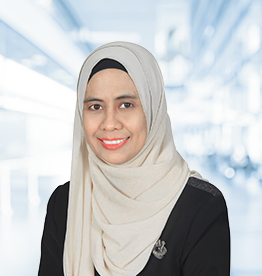 PUSPA HANITA ABD AZIZ
Senior Vice President,
Group Human Resources
AGE / GENDER/ NATIONALITY:
52 / Female / Malaysia
DATE OF APPOINTMENT:
1 September 2019
DIRECTORSHIP IN OTHER PUBLIC COMPANIES AND LISTED ISSUERS:
WORKING EXPERIENCE:
Puspa Hanita Abd Aziz is currently the Senior Vice President of Group Human Resources of Sapura Energy.
Prior to her appointment, Puspa started her career with PETRONAS in 1991. She progressed through various managerial and leadership roles in HR, Group Corporate Strategy and Business Development and finally was appointed as the HR Director for Prince Court Medical Centre, Kuala Lumpur. Subsequently in 2010, Puspa setup and led her own independent HR Consultancy firm delivering advice and designing solutions for various HR scope which include HR Strategy, Leadership Assessment, Capability Development, Performance and Rewards Management. Within this context, she has worked with public listed companies, government agencies as well as local and international clients across various industries. Puspa is a Certified Coach and an experienced leadership assessor.
ACADEMIC/ PROFESSIONAL QUALIFICATIONS:
Bachelor of Science in Economics from Salford University, England
Master of Business Administration from the Strathclyde Graduate Business School, University of Strathclyde, Scotland
Certified Solution-Focused Coach, Canadian Council of Professional Certification (CCPC Global)