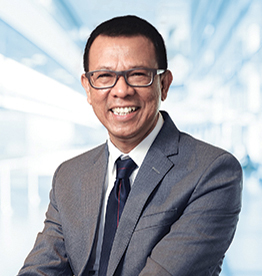 MUHAMMAD ZAMRI JUSOH
Chief Executive Officer,
SapuraOMV Upstream
AGE / GENDER/ NATIONALITY:
53 / Male / Malaysian
DATE OF APPOINTMENT:
16 July 2019
DIRECTORSHIP IN OTHER PUBLIC COMPANIES AND LISTED ISSUERS:
WORKING EXPERIENCE:
Muhammad Zamri Jusoh is currently the Chief Executive Officer at SapuraOMV Upstream. He assumed this position on July 2019 and provide overall leadership and direction in the development and implementation of the Group's strategic plans and policies. He is also responsible in directing and controlling different aspects of business operations and its global portfolios. He is accountable to the Board for the achievement of the Group's goals and objectives.
Zamri is also a member of the Executive Management Committee and sits on the Board of various SapuraOMV subsidiaries.
Prior to joining SapuraOMV, Zamri was the Vice President of Malaysia Petroleum Management, PETRONAS where he oversees the overall policy and the management of the domestic petroleum resources and the development of local oil & gas industry to ensure energy security for the country.
Zamri currently sits on the International Petroleum Technology Conference (IPTC) Executive Committee and APAC Energy Assembly 2020.
ACADEMIC/ PROFESSIONAL QUALIFICATIONS:
Bachelor of Science, Mechanical Engineering from Polytechnic University, New York