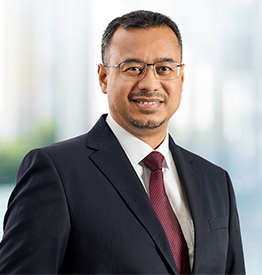 Reza Abdul Rahim
Group Chief Financial Officer
AGE / GENDER/ NATIONALITY:
45 / Male / Malaysian
DATE OF APPOINTMENT:
15 May 2012
DIRECTORSHIP IN OTHER PUBLIC COMPANIES AND LISTED ISSUERS:
WORKING EXPERIENCE:
Encik Reza Abdul Rahim is currently the Group Chief Financial Officer of Sapura Energy Berhad. He has held this position since 1st June 2016. He joined Sapura Energy in 2012 as the Senior Vice President of the Offshore Construction and Subsea Services Division and was later appointed as the Senior Vice President, Group Strategy and Regional Development.
Prior to the merger of businesses between SapuraCrest Petroleum Group and Kencana Petroleum Group, Encik Reza was Acting Chief Executive Officer for Oil and Gas Construction Services of SapuraCrest Petroleum, Chief Executive Officer for Energy Ventures and Operations of SapuraCrest Petroleum and Group Chief Operating Officer of Sapura Group.
Reza has experience in audit, financial management, corporate finance and mergers and acquisitions. Previously, he was Senior Vice President and Head of Group Corporate Finance at Axiata Group Berhad, Chief Financial Officer of Sapura Holdings Sdn Bhd and Group Financial Controller of Sapura Technology Berhad.
ACADEMIC/ PROFESSIONAL QUALIFICATIONS:
Member of the Institute of Chartered Accountants in England and Wales ("ICAEW")
Member of the Malaysian Institute of Accountants
Master of Philosophy in Finance, University of Cambridge, United Kingdom
Bachelor of Science in Accounting and Finance (First Class Honours), The London School of Economics and Political Science, United Kingdom