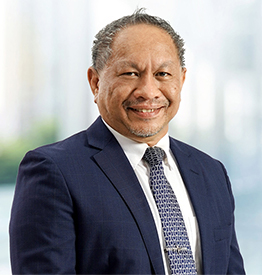 NIK AZLI ABU ZAHAR
Group General Counsel,
Group Legal & Compliance
AGE / GENDER/ NATIONALITY:
52 / Male / Malaysian
DATE OF APPOINTMENT:
1 April 2021
DIRECTORSHIP IN OTHER PUBLIC COMPANIES AND LISTED ISSUERS:
WORKING EXPERIENCE:
Nik Azli was first appointed as the Group Legal Head of Sapura Energy in 2012. In October 2015, he left Sapura Energy and joined Malaysia Airlines Berhad as the Chief Corporate Services Officer until October 2019, where he rejoined Sapura Energy as VP, Group Legal, Contracts & Corporate Secretarial. Nik Azli was the Head of Legal of SapuraCrest Petroleum prior to the merger with Kencana Petroleum Group.
Nik Azli was in private practice in two leading law firms, Zaid Ibrahim & Co ("ZICo") and Zul Rafique & Partners between 1999 to 2010. Apart from experience in mergers & acquisitions and financing transactions, he has had vast experience in project finance transactions both in Malaysia, Asia, and the Middle East.
ACADEMIC/ PROFESSIONAL QUALIFICATIONS:
Member of the Malaysian Bar from 1997 to 2010
Certificate in Legal Practice, University Malaya, 1996
Bachelor of Law (LLB) (Honours), University of Newcastle Upon Tyne, United Kingdom