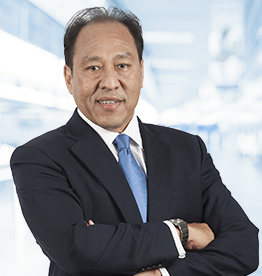 Datuk Kris Azman Abdullah
Senior Vice President,
Special Projects

AGE / GENDER/ NATIONALITY:
56 / Male / Malaysian
DATE OF APPOINTMENT:
15 May 2012
DIRECTORSHIP IN OTHER PUBLIC COMPANIES AND LISTED ISSUERS:
WORKING EXPERIENCE:
Datuk Kris Azman Abdullah is currently the Senior Vice President, Special Projects. He assumed this position in September, 2019 and is currently involved in ensuring operational excellence and delivery of various projects being undertaken by the Group. Prior to assuming this position, he was the Senior Vice President for Exploration and Production and Chief Executive Officer of SapuraOMV Upstream Sdn. Bhd. where he led a multi-disciplinary team that managed all exploration and production activities for Sapura Energy. This included formulating key growth strategies in further developing and growing the exploration and development business of the Group including regional expansion, management of the PSCs and partnerships in the development and production of greenfield, brownfield and marginal oil and gas fields.
He joined the Group with more than 20 years leadership experience in various capacities within the financial services industry from investment banking, stock broking and corporate restructuring.
Prior to joining the Group, he was the Executive Director of Issues and Investment Division at Securities Commission Malaysia where he was responsible for the regulatory oversight function as well as overall market development.
Datuk Kris currently sits on the Malaysia-Singapore Business Advisory Council and the Malaysia-Brazil Business Council.
ACADEMIC/ PROFESSIONAL QUALIFICATIONS:
Corporate Finance (CF) designation from the Institute of Chartered Accountants in England and Wales (ICAEW)
Bachelor of Art (Honours) in Accounting, Michigan State University, United States of America